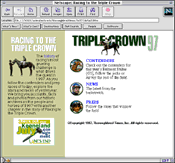 TRIPLE CROWN SITE

This MetaMedia site made it fun to follow the ponies on the 'net
MetaMedia Group brings together a unique collection of talent and experience in Internet publishing and the horse industry.
Because of this knowledge, the bulk of our work as a company has been focused on the horse industry, and we continue to be most interested in working with folks from this fascinating, exciting and arcane world.
MetaMedia Group designs and builds web sites that harness an understanding of publishing, the Internet and the world of the horse.
Our experience dates from 1995, when as managing editor of Thoroughbred Times, Brian Malloy was charged with developing the publication's web site.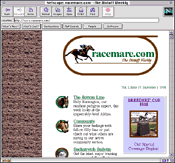 RACEMARE.COM

This MetaMedia site was popular with the fans in the early days of the Web
In the late 1990s, Kirstina Fortune joined MetaMedia Group as an HTML programmer. A Thoroughbred owner and breeder with experience since 1989 from organizations such as Three Chimneys Farm, North Ridge Farm and Thoroughbred Times, Fortune has helped to significantly deepen MetaMedia Group's understandings of what is needed by the professional equine audience.
In 1998, Fortune launched racemare.com, a web site then dedicated to the coverage of Thoroughbred fillies and mares. It quickly gained a position as one of the most popular Thoroughbred sites on the Internet.
Malloy left his employment with Thoroughbred Times and Fancy Publications to take over the management of MetaMedia Group. Malloy is an award-winning Turf Writer, with experience in writing about Thoroughbred racing and breeding stretching back to 1981.
Malloy is also an early scholar of the Internet through his academic work at the University of Kentucky, and his research into Internet Culture was featured at the International Communication Association's annual conference in Montreal. As the founding editor of The Lane Report and the former head of the Lexington, Ky. office of the Shandwick International, the world's largest independent public relations firm, Malloy brings a solid knowledge of publishing, advertising and public relations to MetaMedia Group.
With Fortune and Malloy leading teams of associated designers and programmers, MetaMedia Group is now a leading independent Internet design and consulting firm catering to the horse world.