Since 1995, we have been involved in the development of some of the most innovative and creative web sites on the Internet. Collecting numerous awards along the way, our Internet experience stretches back to the days of "bitnet" and we were fooling around with graphic interfaces when Mosaic was the browser of choice.
We have been fortunate to be associated with some major undertakings on the World Wide Web, and in all of the following projects, MetaMedia Group and our people have been at the core of development and implementation.
Thoroughbred Times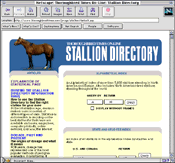 THOROUGHBRED TIMES

MetaMedia helps publication gain a leading web presence
MetaMedia Group's affiliation with the highest-circulation magazine covering the Thoroughbred industry stretches back to the early days of web development. Faced with a need to develop a strong presence on the Internet, we created efficient programs to quickly get racing and breeding news on the Internet with easy-to-use interfaces.
Thoroughbred Times' staff had little technical knowledge, and so programs were developed to make it easy to support a daily web site while simultaneously producing their weekly newsmagazine without any increase in human resources.
Through the years, we have developed sites and programs for a variety of applications for the Times, including their special Breeders' Cup and Triple Crown sections, the Saratoga Journal and the Thoroughbred Times' Stallion Directory On-Line.
Animal Network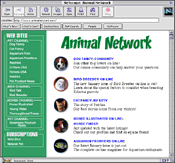 ANIMAL NETWORK

MetaMedia brought dozens of publications under one roof
Our biggest project to date was the conceptualization, design, creation, implementation

and maintainenace of the largest single web site on the Internet dedicated to animals.
Through our association with Thoroughbred Times, we were asked by their parent company Fancy Publications to create a web site in which all of their various animal publications could be brought under one roof. The result was Animal Network, a site that within a year had topped the 3-million hits per month level and was continuing to grow when we turned over the reins to internal Fancy Publications staff.
Animal Network repurposed the content from some of the nation's largest pet magazines, such as Cat Fancy and Bird Talk, combined it with the newsgathering of their editorial staffs and added interactive programmming to allow visitors to participate in the creation of a dynamic site.
Animal Network received multiple "Best of the Web" awards and our programming continues to

support the interactive and community portions of Animal Network.
When CBS Television decided to build a comprehensive Internet service with their affiliates, the network sought out the best content providers on the Internet. CBS selected Animal Network as their provider for pet and animal information, certifying the leading position the site had developed in the Internet community. Through special programming developed by MetaMedia Group, visitors to CBS web sites saw pages from Animal Network tailored to the CBS audience. This was handled automatically, eliminating the need for Fancy Publications staff to maintain two separate web sites.